Next General Meeting
Our next meeting will be Saturday, 10 June 2017 at 10 a.m. in the auditorium at St. Louis County Library Headquarters. The meetings, co-sponsored by the St. Louis Genealogical Society and the St. Louis County Library, are free and open to the public.
LaDonna Garner, expert in historical preservation, will discuss "Probate Records: A Genealogist's Tool That Should Not Be Overlooked." Were your ancestors at the top of the social ladder or near the bottom rung? No matter the circumstance, anyone may have a probate file.
Please Note: Doors will open at 9:30 and the meeting will start promptly at 10 a.m.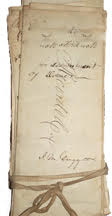 Last modified: 14-May-2017 07:27