Fall Speaker Series
Digital Recordings Now Available for our 2021 Online
Fall Speaker Series!
Mapping Our Ancestors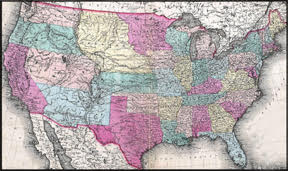 Featured Speakers:
Jacob "Jake" Eubanks, assistant manager, History & Genealogy Department, St. Louis County Library

Bob Goode, StLGS Infosystems Director
Ilene Murray, StLGS Publications Director

Carol Whitton,

CG

, StLGS Projects Director
 
All four lectures are now available online. They will be posted until 16 January 2022.
All of our featured speakers are experienced presenters with expertise in using maps and mapping websites. They will guide you to a better understanding of how to use a variety of resources to learn more about your ancestors' migration within the U.S. and the land they settled on. Recordings include:
Identifying Migration Trails (Jacob "Jake" Eubanks) 
Identifying the post roads, footpaths, and rivers our ancestors used to migrate is a key strategy in resolving complicated genealogical challenges.

Finding an Ancestor's Land at the Bureau of Land Management and in Plat Books (Ilene Murray)
Poles, rods, chains, townships, sections, and ranges—land surveys can be very confusing! Once you've mastered the measurements, however, there's a vast amount of information waiting for you to discover.

Library of Congress Maps (Carol Whitton)
The LOC owns maps showing land ownership, railroads, city plans, wards, panoramic views, topographic features, and even foreign countries. Most are only available on site in Washington, D.C., but many are now accessible online.

HistoryGeo.com and Sanborn Maps: Rural and Urban Map Research (Bob Goode)
The HistoryGeo.com website features early landowners and an antique map collection. The Sanborn Fire Insurance maps contain detailed information on urban areas. Both can be extremely helpful in doing your family history research.

The price for StLGS members is $40 and for non-members $50. Registration for the Fall Speaker Series continues to be open in our online store.

Registrants will receive an email with a link to a page on our website containing links to the handouts and links to view the digital recordings.

If you prefer to register by mail, download a copy of the Fall Speaker Series registration flyer.

Questions: Send an email to .

For information about the history of the StLGS Speaker Series, click here.

Biographical Information on the Speakers:

Jacob "Jake" Eubanks is assistant manager of the History & Genealogy Department at St. Louis County Library where he assists researchers in developing strategies to resolve their genealogical queries. Jacob's research interests are closely tied to colonial America and westward migration, and he regularly lectures on the use of sources including historical maps, land, court, and church records.
Bob Goode is the StLGS InfoSystems Director, maintaining and overseeing the society's website. He was an educator for thirty-seven years, mostly as department chair of Social Studies at Parkway North Senior H.S. He has written a family history book on his paternal line and is currently writing one for his maternal line. Bob teaches genealogy classes, lectures, and co-leads the society's annual research trip to Salt Lake City.
Ilene Murray has been a genealogy researcher for almost forty years. A retired English and computer teacher, she's been publications director for StLGS since 2000. She co-leads the society's annual research trip to Salt Lake City and is a co-leader of the Jewish Special Interest Group. She lectures, teaches genealogy and computer classes, and writes and edits. Ilene serves on the society's technology and social media teams, working on the website, the society's Facebook pages, and the weekly blog.
Carol Whitton,

CG

, is an author and lecturer on German research, U.S. migration, and other genealogical topics. She serves as projects director for StLGS, and she is the leader of the society's German Special Interest Group. Carol is a graduate of the Germanic Family History Research class at the Salt Lake Institute of Genealogy, the National Institute for Genealogical Research, and the Virginia Institute for Genealogical Research.
Last modified: 18-Oct-2021 12:17