Next Monthly Meeting
Our next meeting will be Saturday, 12 October 2019, at 10 a.m., in the auditorium at St. Louis County Library Headquarters. The meetings, co-sponsored by the St. Louis Genealogical Society and the St. Louis County Library, are free and open to the public.
Porsche Schlapper, curator of the Herman T. Pott National Inland Waterways Library at UMSL, will present "Going with the Flow: River History and the Records That Trace It." Just as the river itself has meandered and changed over time, so too have the ways in which its history has been recorded. Ms. Schlapper will discuss letters, ledgers, books, (and more!) as well as how and where to find evidence of your ancestor's potential travel by or employment on American rivers.
Please Note: Doors open at 9:30 a.m. and the meeting will start promptly at 10 a.m.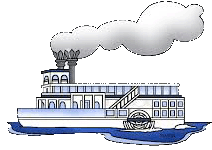 Last modified: 14-Sep-2019 13:46