Next Monthly Meeting
Our next meeting will be Saturday, 13 October 2018 at 10 a.m. in the auditorium at St. Louis County Library Headquarters. The meetings, co-sponsored by the St. Louis Genealogical Society and the St. Louis County Library, are free and open to the public.
Join us as we explore the Missouri History Museum Library and Research Center with associate archivist, Dennis Northcott. A beautiful facility inside and out, the MHMLRC holds a wealth of resources that tell the stories of our St. Louis-area ancestors. Dennis will give us an entertaining and informative look at the genealogical treasures stored within this local landmark.
Please Note: Doors open at 9:30 a.m. and the meeting will start promptly at 10 a.m.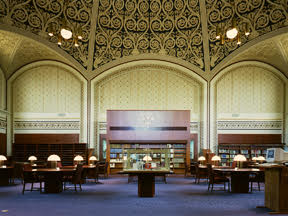 Last modified: 10-Sep-2018 17:54