Research in St. Louis
The St. Louis Genealogical Society wants to help genealogists trying to research their St. Louis ancestors. Research in St. Louis provides some history of St. Louis, and indicates where to find the records today. It also provides suggestions for other websites that provide data or clues for St. Louis documents.
St. Louis County was one of the first five counties or divisions in the area that became Missouri. The original area of St. Louis County stretched all the way across the current boundaries of Missouri.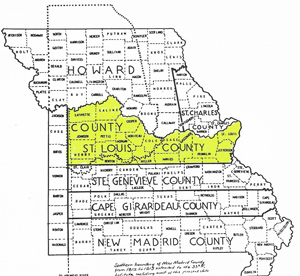 By 1876, the St. Louis population had expanded far beyond the riverfront; however, most of the metropolitan residents lived within the new St. Louis City boundaries. Those residents supposedly did not want to support the county residents. Therefore, St. Louis City and St. Louis County established separate governing boundaries.
In 1876, the most unique aspect of St. Louis history occurred. The city and county separated or divorced making St. Louis City an independent city, not a county. The balance of the previous county became what is today, St. Louis County.
Before 1876, all residents recorded their documents in the downtown government center. Many of those records are located today in St. Louis City Hall or the Civil Courts Building across the street. All pre-1876 records remain at the downtown facilities.
By 1877, the new St. Louis County government established its new courthouse in Clayton, Missouri. This facility maintained records for the rural community in the new St. Louis County.
Starting in 1876, genealogical researchers must review City and County records. Even if you know your ancestor lived in one jurisdiction, the ancestor could travel to the other courthouse to record a marriage or will. To be thorough, it is necessary to research records in both facilities.
St. Louis Genealogical Society has prepared this portion of the website to help St. Louis genealogical researchers around the world. Volunteers have contributed many, many hours in order to present this information.
StLGS appreciates your support in order to continue this project. You may become a member or make a donation online today.
Please visit each portion of RESEARCH IN ST. LOUIS. We would like to hear your success stories. Thank you for visiting this website and good luck with your research.
Last modified: 30-Jun-2016 17:51