1950 Census Enumeration Districts
The 1950 United States federal census will be released on 1 April 2022. When the census is released, however, it will not be indexed. In order to locate your ancestors (or yourself), you will need to know where they lived in 1950. City directories from that time period can help you, and many are online or available at a wide variety of repositories. Once you have addresses, you will need to know the enumeration districts where those addresses are located.
Enumeration districts (E.D.s) are areas that a census taker, called an enumerator, can reasonably cover within the time he or she is allotted to gather data. In cities with large populations, E.D.s cut through neighborhoods and often split blocks into odd and even sides. Rural areas generally have fewer E.D.s because they are less populated. E.D.s are not consistent between censuses; they change over time.
Determining an E.D. will be your first step in finding your families in the 1950s census, and there are a number of online resources to help you do that. One of the best online sources, and one which you can use right now, is on the website of noted genealogist, Stephen Morse https://stevemorse.org/census/unified.html. The search form for all of Missouri is at State of Missouri. Other states are on the site as well.
The National Archives has all of the census enumeration district maps online for 1950 St. Louis County and 1950 St. Louis City as well as maps for many other locations.
The map below can help you navigate the National Archives' maps for St. Louis. Once you know the E.D. you are seeking, click on each section of the map below to select a detailed map for that specific section of the city or county. Note that the numbers in black circles correspond to the National Archives census sheet numbers and the numbers in red are St. Louis County township numbers. Scroll below the map for specific details.
Once you are on the National Archives' website, you will use the orange numbers on their maps preceded by "95" to determine the E.D.s. Please note: During World War II, many street names were changed because of the connotations they held. In addition, after the war, many new subdivisions in the suburbs began springing up. The NARA maps were printed in the 1940s and may not reflect those changes. If you cannot find a street, you may want to use Google maps to find streets that were close by and use those as a point of reference.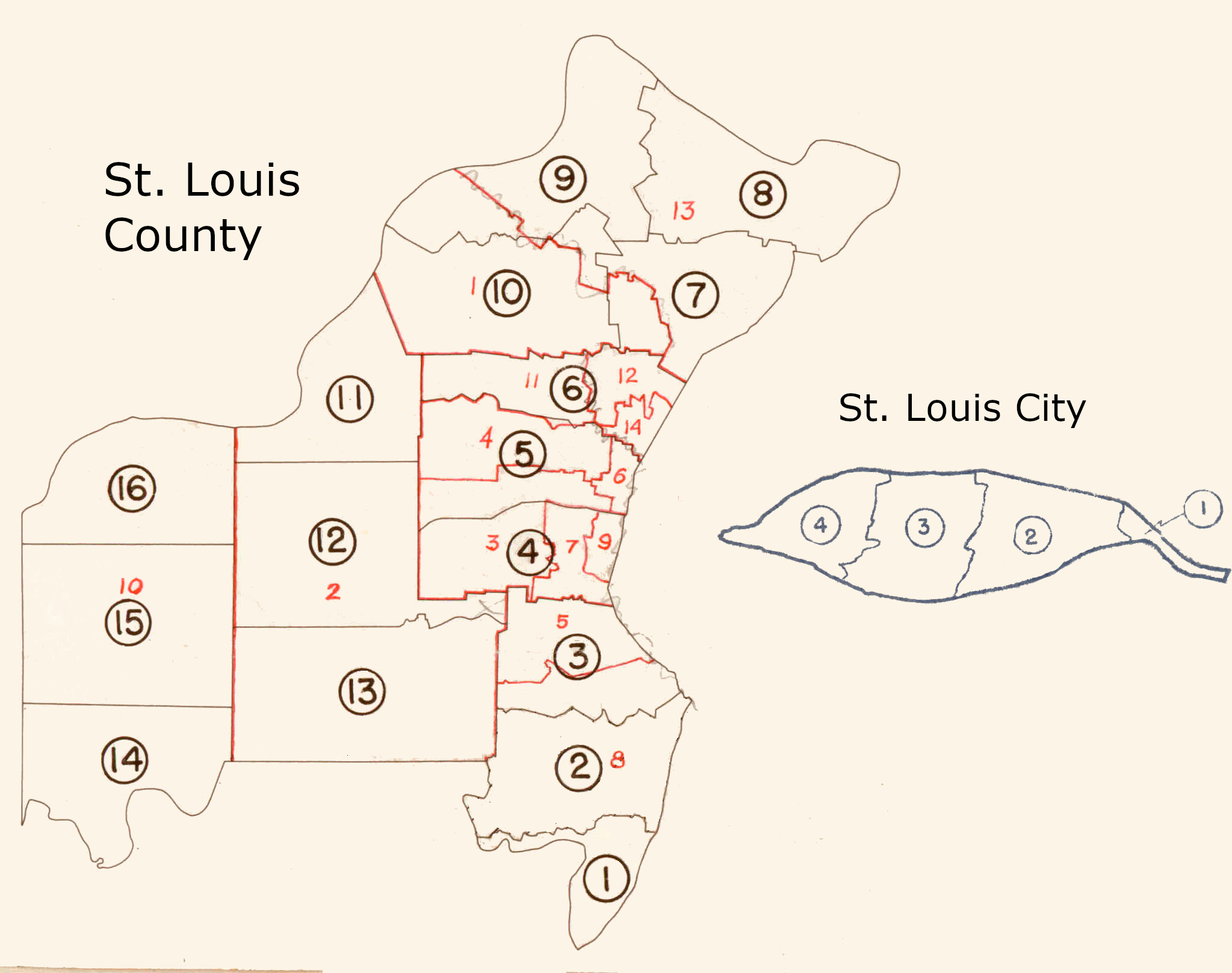 Map Legend
Census Sheet Numbers (1–16 County, 1–4 City) in Black

Township Numbers (1–14 County) in Red
| | | | | | | |
| --- | --- | --- | --- | --- | --- | --- |
| 1—Airport | 2—Bonhomme | 3—Clayton | 4—Creve Coeur | 5—Gravois | 6—Hadley | 7—Jefferson |
| 8—Lemay | 9—Lincoln | 10—Meramec | 11—Midland | 12—Normandy | 13—St. Ferdinand | 14—Washington |
Additional Resources
For more assistance in using and understanding the 1950 census, see "Snapshot USA: 1950 Census Enumeration District Maps," on the National Archives website.
And you can watch "Make History! Find Your Family in the 1950 Census," an instructional video from the National Genealogical Society on YouTube.
Last Modified: 10-Dec-2022 11:56